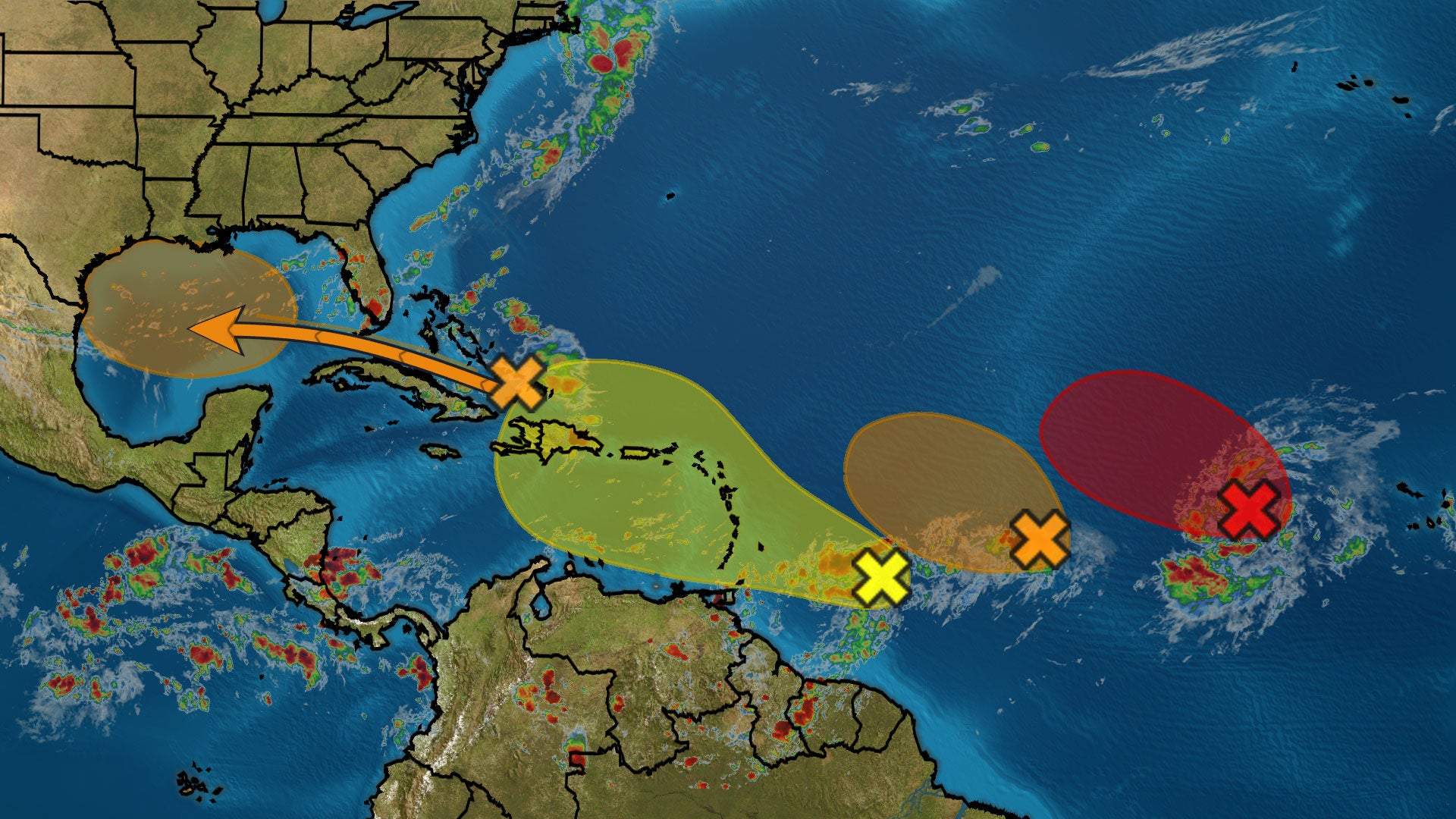 Play
An area in the Gulf of Mexico is being watched for slow tropical development next week.
Three additional areas in the Atlantic are being monitored for possible tropical development.
Emily is the next Atlantic storm name.
Atlantic hurricane season has been mostly quiet for weeks, but now we have four areas to track for possible tropical development from the Gulf of Mexico to the eastern Atlantic Ocean.
(​MORE: 88% Of Tropical Activity Happens After Aug. 15)
G​ulf of Mexico development chances are low: Forecast model guidance is hinting that low pressure may form in the Gulf by early next week. This possible development is associated with a​ weak, African dust-laden tropical wave that is moving westward through the northern Caribbean. These elongated areas of low pressure can often be the seed for the formation of tropical depressions and storms.
The tropical wave will try to shake off dry air as it trudges westward toward the Bahamas, Florida and then the northwestern Gulf this weekend into early next week. Florida will see soaking rainfall from this system during that trek.
A​ny system that tries to develop in the Gulf early next week from this tropical wave is anticipated to be relatively weak. Regardless, some areas along the western or northern Gulf Coast could see an enhancement of much-needed rainfall.
T​here will likely be changes to this forecast scenario in the coming days, so check back for updates.
Rainfall Outlook
(This should be interpreted as a broad outlook of where the heaviest rain may fall.)
The tropical Atlantic is also being watched for tropical development: The three areas that the NHC has highlighted in the central and eastern Atlantic are associated with tropical waves.
T​he most likely system to develop into a tropical depression is the one closest to Africa on the map below. The system has been tagged Invest 98L and it could form this weekend amid generally favorable conditions.
(​MORE: What is an invest?)
To that system's west, the central Atlantic system, tagged Invest 99L, is producing showers and storms and it could slowly form into a tropical depression over the next several days.
S​ome slow development is also possible near the Lesser Antilles this weekend into next week. Regardless of development, showery weather is likely from Puerto Rico to Barbados, especially on Sunday.
(​MORE: Hurricane Season Forecast Update)
Possible NHC Development
(The possible area(s) of tropical development according to the latest National Hurricane Center outlook are shown by polygons, color-coded by the chance of development over the next seven days. An "X" indicates the location of a current disturbance.)
A​tlantic waters are very warm, but dry air is abundant. Sea-surface temperatures in much of the tropical Atlantic continue to run well above average, which is a favorable factor for the formation of tropical storms.
But a factor that's counteracting the warm water for now is widespread dry air. This dry air is one of the reasons why the Atlantic has been mostly quiet since the final advisory was written for Tropical Storm Don over three weeks ago.
Dry, sinking air disrupts tropical systems by suppressing thunderstorms and strengthening downdrafts of storms that are able to form. That prevents thunderstorms from persisting long enough near a surface low-pressure center in order to keep the storm healthy.
Never miss an update – get breaking news delivered straight to your desktop or mobile phone.
It's typical to have one or more locations of possible development this time of year. T​hese areas being watched for development are a reminder that we are heading into the heart of the hurricane season. Much of the season's tropical storm and hurricane activity occurs between mid-August and early October, as the graph below shows.
T​his uptick in tropical activity is a reminder to stay alert and check back frequently for the latest updates on the tropics in the coming weeks and months. We'll have many more disturbances like these to track from the Atlantic to the Caribbean and Gulf of Mexico.
Emily will be the name given to the next Atlantic storm.
Chris Dolce has been a senior meteorologist with weather.com for over 10 years after beginning his career with The Weather Channel in the early 2000s.
The Weather Company's primary journalistic mission is to report on breaking weather news, the environment and the importance of science to our lives. This story does not necessarily represent the position of our parent company, IBM.