As observed on the physical map of Qatar, the country occupies a peninsula extending into the Persian Gulf from the Arabian Peninsula. The country also has several low lying offshore islands. Qatar occupies a total area of 11,437 sq. km. 
The highly flat nature of Qatar's terrain is easily visible on the map. The highest point in the country is Qurain Abu al-Bawl that is only 103 m (338 ft)) and rocky. It has been marked on the map by a yellow upright triangle. 
Notable features include coastal salt pans, elevated limestone formations (the Dukhan anticline) along the west coast under which lies the Dukhan oil field, and massive sand dunes surrounding Khawr al Udayd, an inlet of the Persian Gulf in the southeast known to local English speakers as the Inland Sea.
Municipalities of Qatar Map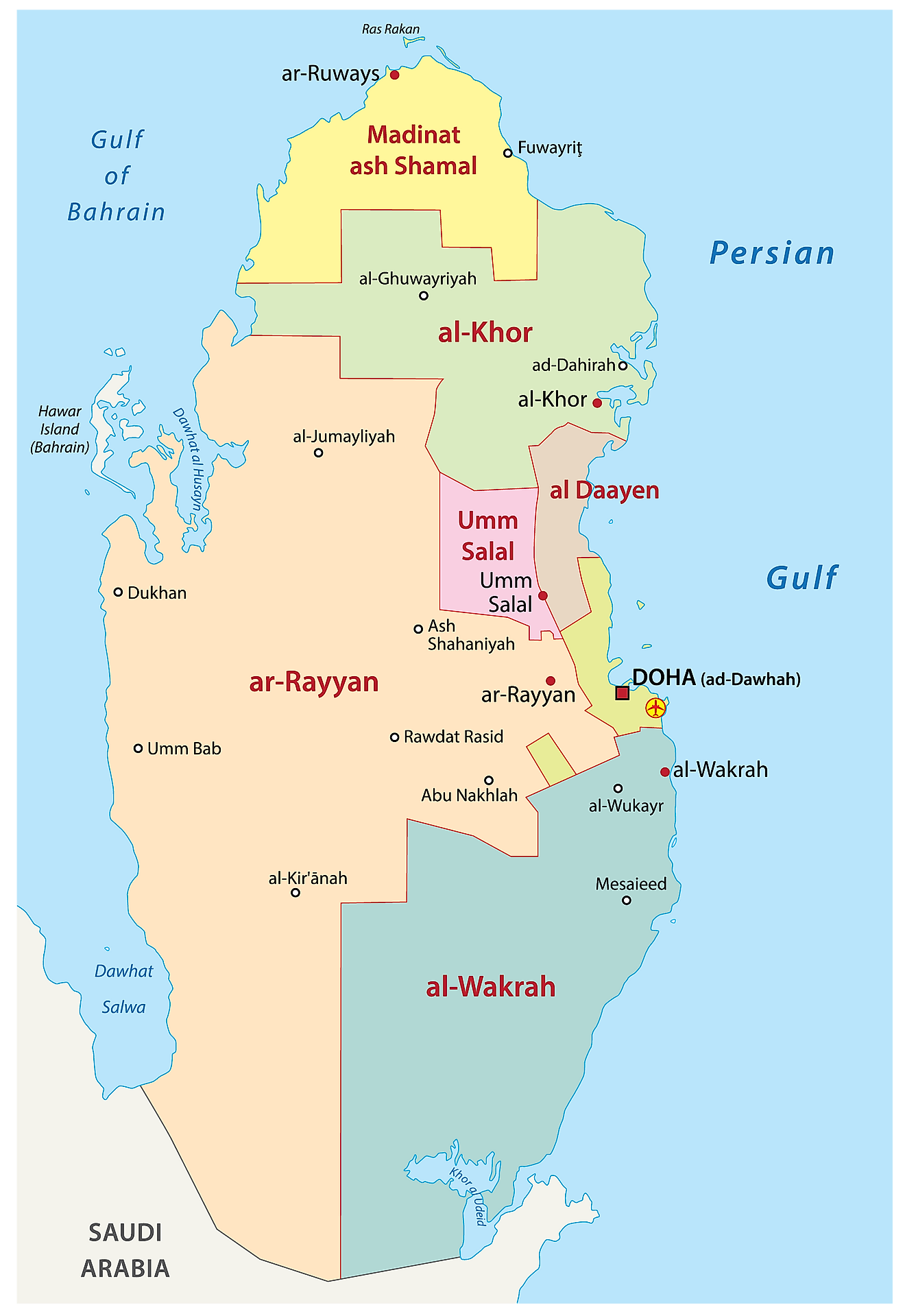 Qatar (officially, the state of Qatar) is divided into 8 municipalities. In alphabetical order, these municipalities are: Al-Daayen, Al-Khawr, Al-Rayyan, Al-Shahaniya, Al-Shamal, Al-Wakrah, Doha and Umm Salal Muhammad. These municipalities are further subdivided into 98 zones and smaller subdivisions.
With an area of 3,309.0 sq. km, Al-Shahaniya is the largest municipality by area while Al-Daayen is the most populous one.
Doha is the capital and largest city of Qatar. Doha is located in the eastern part of the country, on the coasts of the Persian Gulf. It is the most populous city and also the country's political and economic center. 
Where is Qatar?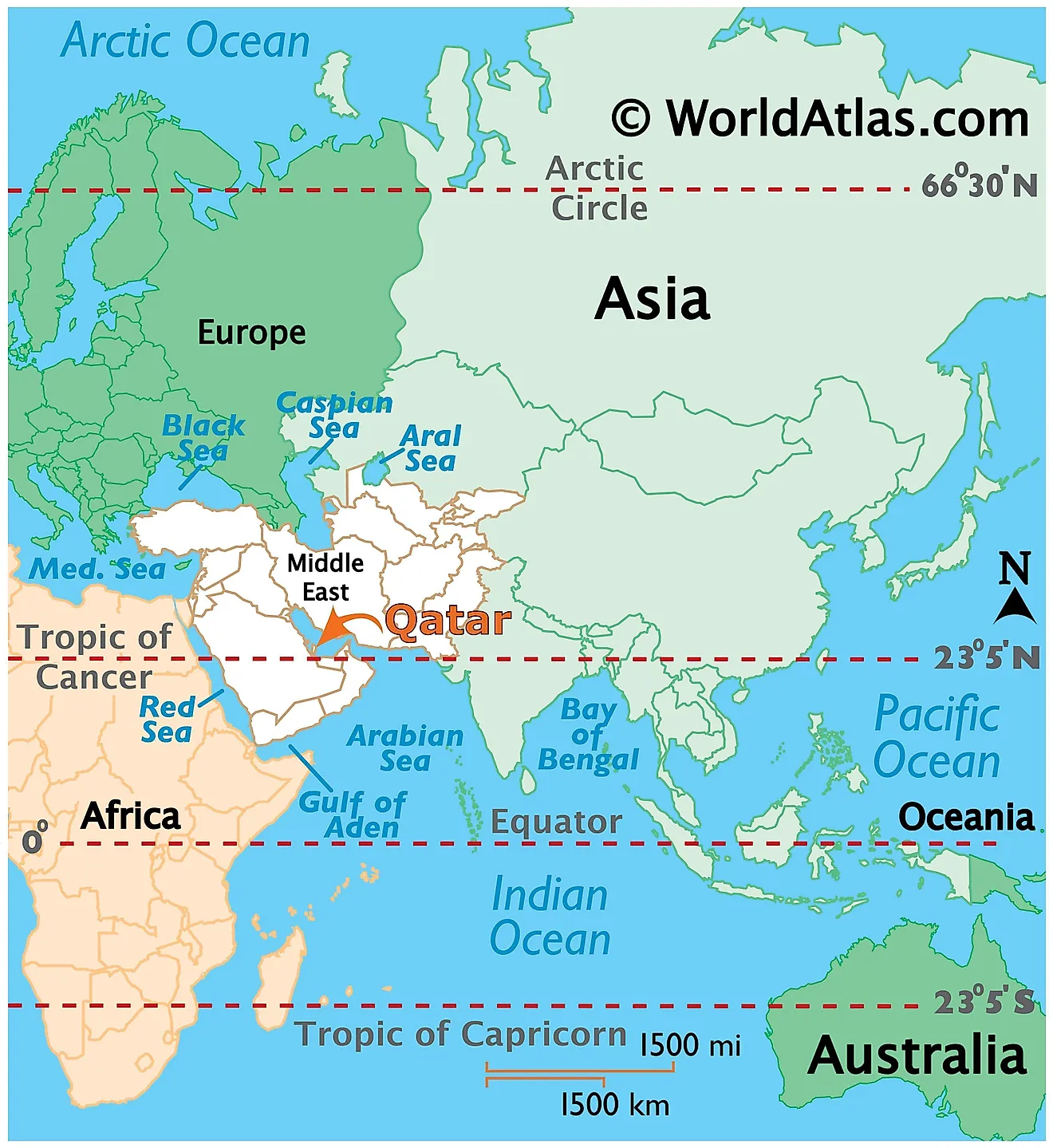 Qatar is situated on the Qatari Peninsula that extends from the Arabian Peninsula into the Persian Gulf. It is a Western Asian country that is one of the seven nations that make up the Arabian Peninsula. It is located in the Middle East, in the North eastern coast of the Arabian Peninsula, in the Northern and Eastern hemispheres of the Earth. Qatar is bordered by 2 nations: United Arab Emirates in the southeast and Saudi Arabia in the southwest. While, the Persian Gulf surrounds Qatar in the north and east; the Dawhat Salway Bay surrounds the country along the western coast. The Gulf of Bahrain separates Qatar from the Kingdom of Bahrain. 
Qatar Bordering Countries: Saudi Arabia.
Regional Maps: Map of Asia
Outline Map of Qatar
Key Facts
Legal Name
State of Qatar
Flag
Capital City
Doha
25 17 N, 51 32 E
Total Area
11,586.00 km2
Land Area
11,586.00 km2
Water Area
N/A
Population
2,832,067
Major Cities

Ar-Rayyan (798,382)
Ad-Dawhah (Doha) (658,344)
Doha Industrial Area (438,159)

Currency
Qatari rials (QAR)
GDP
$183.47 Billion
GDP Per Capita
$64,781.73
This page was last updated on December 7, 2022