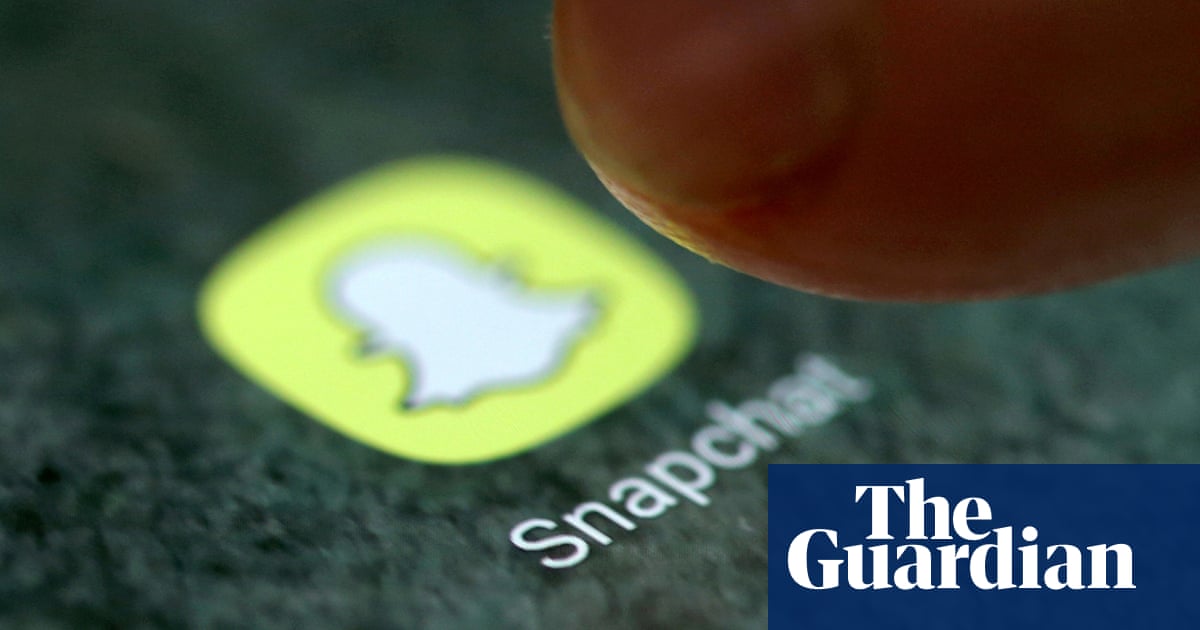 Saudi Arabia appears to be exploiting the US messaging app Snapchat to promote the image of its crown prince, Mohammed bin Salman, while also imposing draconian sentences on influencers who use the platform to post even mild criticism of the future king.
The California-based company, which last year agreed to a "collaboration" with the Saudi culture ministry, has more than 20 million users in the kingdom – including an estimated 90% of 13-to-34-year-olds – and the crown prince has met personally with some of the platform's biggest "Snapchatters" for informal talks about current events, according to people familiar with the encounters.
The platform, which allows users to share messages, photos and videos that disappear after being viewed, is so popular that one senior Snap Inc executive recently called it an "extension of the [kingdom's] social fabric". One of the company's largest single investors is Saudi Prince Alwaleed bin Talal, who in 2018 invested $250m in the company.
Close watchers of Saudi-based verified accounts say the platform is used by many influencers to promote Bin Salman's image, with influencers widely and uniformly sharing any new photographs of the prince or other video content that promotes him.
Critics, dissidents and human rights experts say the platform is also used as a tool of domestic and transnational repression. People who spoke to the Guardian on the condition of anonymity to protect contacts in the kingdom say that posts (or "Snaps") are closely monitored by Saudi security services. In one case, influencers who are not political were questioned by security services for not posting enough fawning Snaps about the crown prince, according to a person with direct knowledge of the matter.
Those interactions sometimes involve threats that an individual will not be awarded a government-approved licence, which is now mandatory for influencers seeking to make money off the platform, and is seen by critics of the government as another way for authorities to maintain control of social media inside the kingdom.
One Saudi Snapchat influencer, Mansour Al-Raqiba, who has more than 2 million followers, was arrested in May 2022 in connection to social media posts in which he acknowledged having been blackmailed by an individual who claimed they had heard him criticising Bin Salman's Vision 2030 economic plan. A person familiar with the case said Raqiba had been sentenced to 27 years in jail.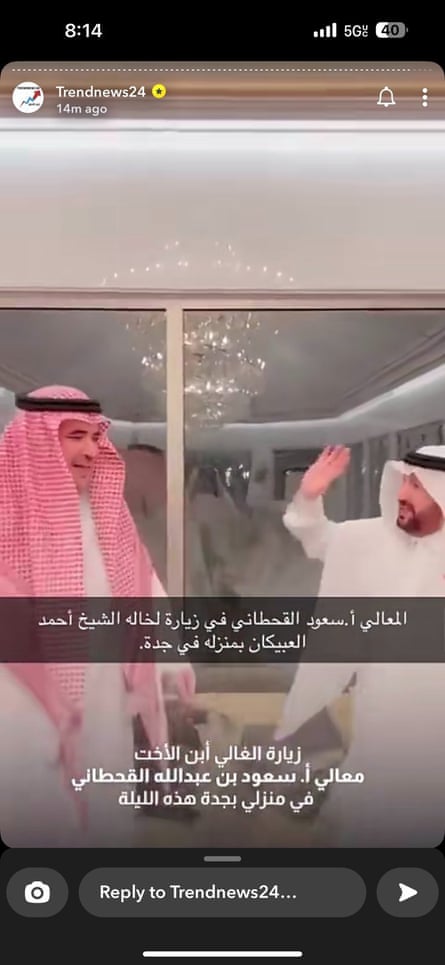 An image from the popular pro-Mohammed bin Salman Snapchat account Trendnews24 showing Saud Al-Qahtani, who is under US sanctions for his involvement in the murder of Jamal Khashoggi. Photograph: Snapchat
In the US, Saudi dissidents including Khalid Aljabri, a frequent critic of Bin Salman, report being harassed by Snapchat users based in Saudi Arabia.
"Snapchat's popularity makes it an ideal tool for a repressive regime that exploits Snapchat in the dissemination of state propaganda, character assassination of detractors, and surveillance of activists and influencers," Aljabri said.
The concerns are backed by the US state department's 2022 human rights report, which noted that authorities in Saudi "regularly surveilled websites, blogs, chat rooms, social media sites, emails, and text messages". The state department also reported that the Saudi government harasses individuals by using automated social media accounts to ensure that pro-government messages dominate social media trend lists and "effectively silence dissenting voices".
"Petroleum-enriched Gulf oligarchs have a disturbing track record of punishing social media users, and employing multidimensional digital influence operations to silence critics and undertake transnational repression," said Ron Deibert, director of the Citizen Lab at the Munk School at the University of Toronto.
Accepting Saudi investment, Deibert said, not only creates a public relations problem, but possibly an operational one, since it is "almost certain" that such authoritarian governments will try to leverage their investments to exercise control over the platform.
A Snap spokesperson said the company was "committed to protecting the safety and self-expression of Snapchatters around the world". But the spokesperson did not provide any specific comment about the imprisonment of users in Saudi Arabia, or whether the issue had been discussed by the company's board of directors, including its CEO and founder, Evan Spiegel.
Some Saudi dissidents who live outside the kingdom have said that their own complaints related to their accounts have been ignored by the company. Omar Abdulaziz, a Canada-based Saudi activist who was a close associate of the murdered Saudi journalist Jamal Khashoggi, has for years tried without success to get his own Snapchat account verified. While Abdulaziz has more than 600,000 followers on Twitter, his following on Snapchat, where he posts videos, has been stagnant – or losing followers – for years.
Abdulaziz has long been seen as an enemy by the kingdom. Researchers at the Citizen Lab found the dissident – who is featured in a major documentary about Khashoggi's murder – was hacked by Saudi authorities in 2018. In 2020 he was warned by Canadian authorities that he was a "potential target" of Saudi Arabia and that he needed to take precautions to protect himself.
He said that he suspects he has likely been a victim of Saudi-sponsored trolls – sometimes known as the "Army of Salman" – who "report" his account which in turn may be affecting his ability to grow followers.
"They have to protect activists from this," Abdulaziz said, pointing to similar issues he said he faced on YouTube before the company resolved the issue.
The Guardian shared screenshots of Abdulaziz's previous correspondence with the company's customer service team, in which he asked for verification, with a Snap spokesperson. In response, Snap said that those requests "didn't get routed to the right team" and that Abdulaziz's request had never formally been denied.
Danah Almayouf, a Saudi artist who lives in the US and has been a vocal critic of the kingdom's government, has had her Snapchat account suspended numerous times without explanation.
In 2019, Almayouf was contacted by a Saudi national, Ibrahim Alhussayen, who tried to lure her into a meeting, promising to help her in litigation she was involved in. Alhussayen was later arrested and convicted for lying to the FBI about using anonymous social media accounts to harass US- and Canada-based Saudi dissidents.
Almayouf said she reached out to Snapchat to ask about her account, but never heard back. The company declined to comment.
A Snap spokesperson said decisions about account verification and content "are made by our global team and are not influenced by any government".
Even as some critical Saudis have been flummoxed by the handling of their accounts, Snapchat has continued to give a platform to a Saudi FBI fugitive named Ahmed Aljbreen, who evaded arrest after being charged for his alleged involvement in a Saudi plot to infiltrate Twitter. While Aljbreen's status as a verified Snapchat user was removed after his indictment, the Guardian asked the company about his continued presence on the platform.
The company said it was "currently reviewing" the matter.