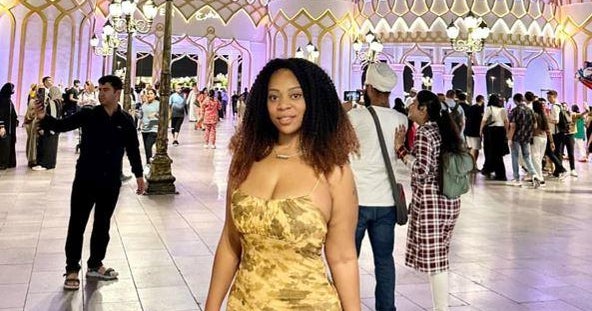 London — A Houston woman is trapped in the United Arab Emirates after being briefly detained for "shouting" in public during an argument with a Dubai car rental company, a London-based organization trying to help her get out of the country has told CBS News.
Social media influencer Tierra Young Allen, 29, known to fans online as the Sassy Trucker, was arrested in May following a confrontation with a male employee of a car rental company in Dubai who was trying to intimidate her into paying thousands of dollars she didn't owe, according to Radha Stirling, CEO and founder of Detained in Dubai, the international nonprofit organization that's working to free her.
Stirling said Allen was arrested on May 16 and released on bail later that day, but her passport is being held by authorities, preventing her from leaving the UAE.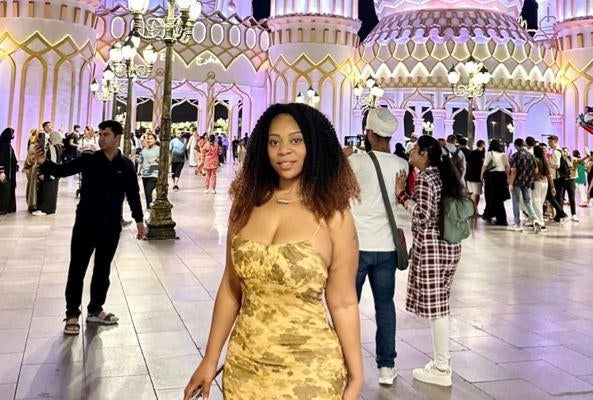 Texas resident Tierra Allen poses for a photo in front of the Global Village attraction in Dubai, United Arab Emirates, in a photo posted to her Facebook account in March 2023. Tierra Allen/Facebook
"She was told at the police station (Bur Dubai) that she has been accused of 'shouting,' which under the UAE's laws is illegal under 'offensive behavior,' which is an unclear and subjective regulation, but warrants up to two years in prison, a fine and deportation," Stirling told CBS News on Thursday.
CBS News requested comment for this story on Thursday from the Dubai Police and the UAE Foreign Ministry, but had not received replies by the time of publication.
Help from the U.S.?
Stirling said the U.S. Embassy in Dubai had not provided Allen with any assistance as of Thursday, adding that the embassy had undergone a staffing change just last week. 
A spokesperson for the U.S. Department of State told CBS News that it was aware Allen was "unable to depart Dubai" and that it was "providing all appropriate assistance."
"The Department remains in regular communication with her and her family," the spokesperson said, adding that it would continue to monitor her case closely. 
Detained in Dubai contacted the office of Texas U.S. Sen. Ted Cruz directly, and Cruz's office confirmed to CBS News that representatives had spoken with Allen's family and "contacted the Department of State about the case."
"Sen. Cruz will continue to gather details and engage on this case until Ms. Allen is returned home to her family," his office said.
Stirling said Allen's mother, Tina Baxton, had also contacted Rep. Sheila Jackson Lee of Texas' 18th congressional district, who was also looking into the matter. Jackson Lee's office did not immediately reply to CBS News' request for comment on this story.
"We have advised their offices how governmental representatives are best able to help in these situations and hope for her speedy return home," Stirling, who is also a lawyer specializing in Middle East legal matters, told CBS News. Jackson Lee's office did not immediately respond to a request for comment.
"A common rental car extortion scheme"
Allen was not allowed to retrieve her belongings from the rental vehicle and later noticed that several fraudulent charges were attempted on her credit cards, which were in the back of the vehicle she returned, Stirling said.
The man who worked at the vehicle rental agency and initially accused Allen left the country for Pakistan after filing his police report, said Stirling.
Reports in Arabic media said the rental agency had offered to drop its case against Allen if she paid approximately $5,700. Stirling said that was evidence of a common scam used by rental agencies in the Arab emirate.
"Tierra is the latest American tourist to get caught up in what is a common rental car extortion scheme," she said. "Rental car agencies are notorious for opening criminal cases against visitors with the promise to drop the case if they are paid off. The prevalence of blackmail is damaging to the UAE's tourism and investment sectors and Dubai's government needs to crack down on this abuse of process."
"In another recent case, three Americans actually paid over $20,000 to a rental car agency that they did not owe, just so they could get out of the country," the activist and lawyer said.
Stirling became active in the Middle East when her friend Cat Le-Huy was detained in Dubai. She led a campaign for his release in 2008, founding Detained in Dubai.
She said Allen and her mother were becoming increasingly anxious and "have been going through hell and have no idea what the outcome will be, and when they might be reunited."
Allen has not posted on her Sassy Trucker social media accounts since her arrest.
Trending News