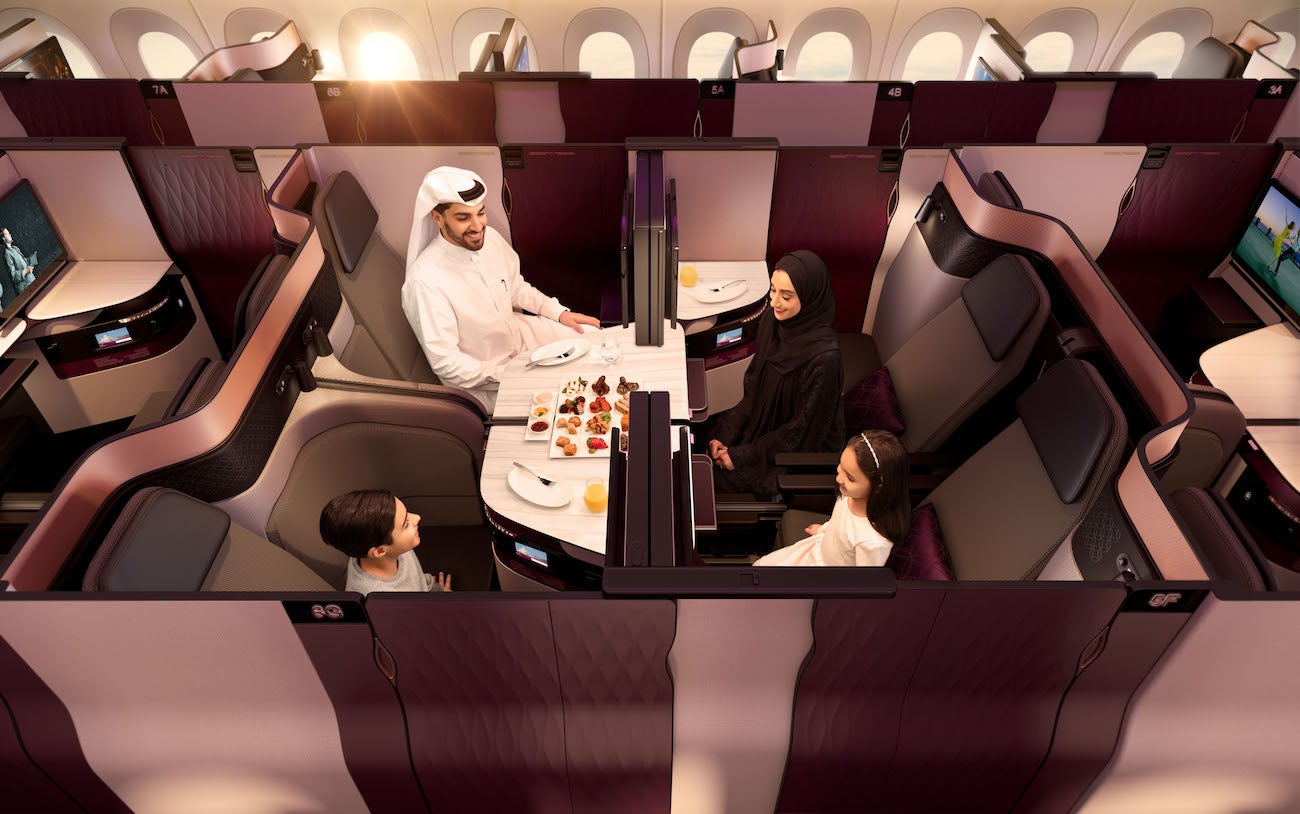 Qatar Airways is one of the world's most premium airlines, with an excellent business-class product and great lounges at its hub in Doha, Qatar's Hamad International Airport (DOH). The airline has a huge route network as well, with routes to major U.S. airports like Chicago's O'Hare International Airport (ORD), Dallas Fort Worth International Airport (DFW) and Philadelphia International Airport (PHL).
The Oneworld member has its own loyalty program called Qatar Airways Privilege Club and uses the popular points currency Avios. With this loyalty program, you can earn and redeem miles when flying Qatar Airways and its Oneworld partners. Plus, it has three elite status levels that give frequent flyers special privileges like entry to lounges and access to preferred seating.
New to the carrier's Privilege Club? You're in the right place. Here is everything you need to know about the program.
What are Avios?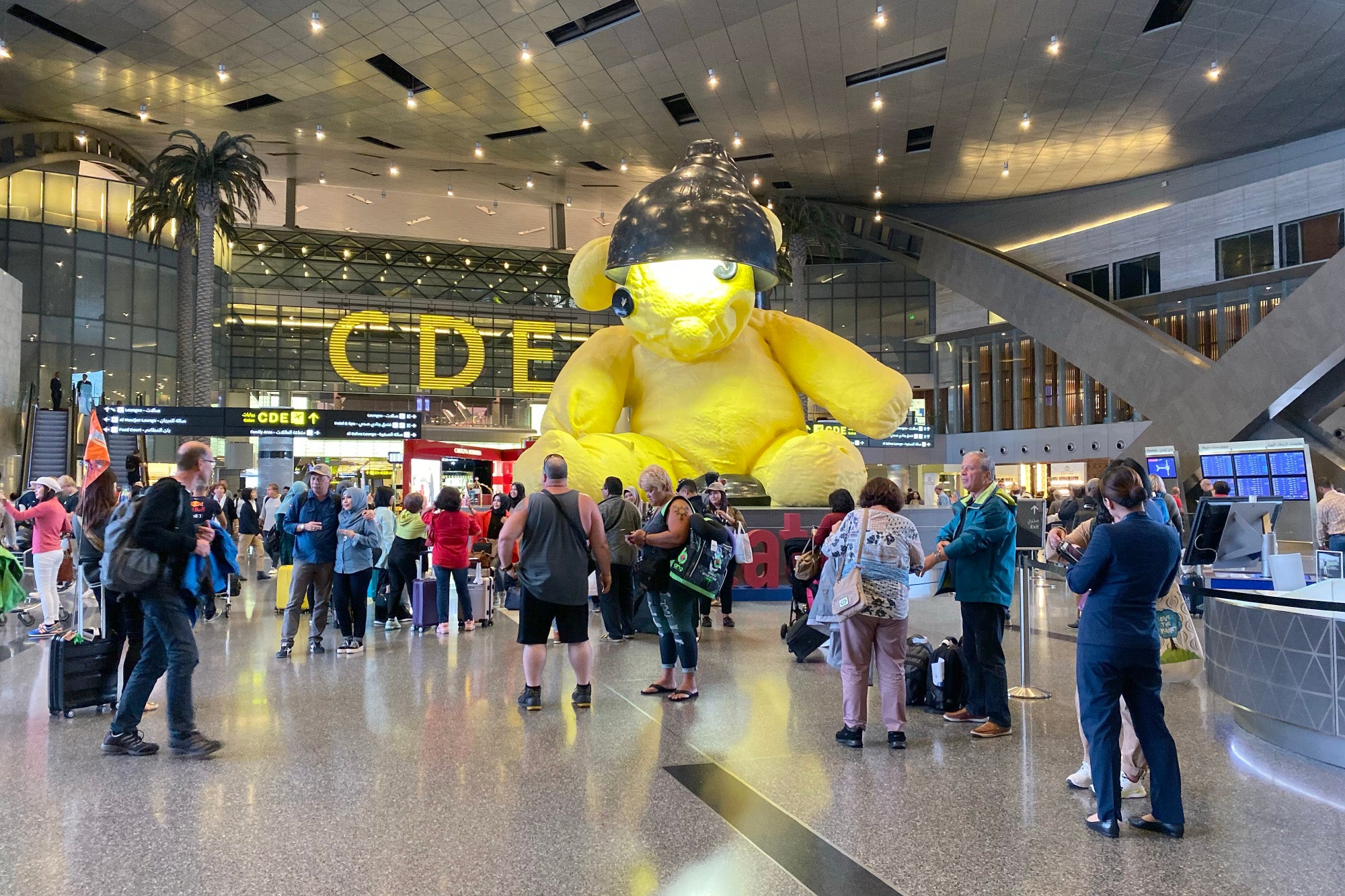 ZACH HONIG/THE POINTS GUY
Avios is the points currency used by the following loyalty programs:
Avios can be transferred between any of these programs at a ratio of 1:1, so each Avios is theoretically worth the same in each program. However, there are different ways in which Avios can be redeemed in each program, meaning the savvy reader can achieve different values depending on which program they are used in … and how.
This guide focuses on Avios earned and redeemed through the Qatar Airways Privilege Club program.
Elite status
Qatar Airways has three elite status tiers beyond the entry-level Burgundy level: Silver, Gold and Platinum. You can qualify for these tiers by earning a certain number of Qpoints by flying with Qatar Airways and its partners. To view how many Qpoints you'll earn with each flight, use the Qatar Airways' My Calculator.
Below is a look at how many Qpoints you'll need to qualify for each tier. You must earn these within a single 12-month period. Once you've qualified for Silver, you can upgrade by earning a higher number of points within 12 months of earning Silver. This is considered your "renewal date."
Reward your inbox with the TPG Daily newsletter
Join over 700,000 readers for breaking news, in-depth guides and exclusive deals from TPG's experts.
| Tier | Qpoints required |
| --- | --- |
| Silver | 150 |
| Gold | 300 |
| Platinum | 600 |
Interestingly enough, fewer Qpoints are required to renew your elite status. You can either earn a smaller number of Qpoints in 12 months or a higher number in 24 months — each calculated from your renewal date.
| Tier | Qpoints required (12 months from renewal date) | Qpoints required (24 months from renewal date) |
| --- | --- | --- |
| Silver | 135 | 270 |
| Gold | 270 | 540 |
| Platinum | 540 | 1,080 |
If you fail to meet renewal requirements, you'll drop to the tier you did qualify for.
Additionally, you must earn at least 20% of your Qpoints on flights marketed or operated by Qatar Airways to qualify. Alternatively, you can fly four Qatar Airways segments on 12-month renewals or eight Qatar Airways segments on 24-month renewals to meet this requirement.
Elite status benefits
Silver (Oneworld Ruby) is Qatar's lowest elite status tier and includes the following benefits:
Discounted seat reservation
50% bonus Avios
Family member bonus
Lounge access (no guests)
Two guest lounge passes
Free checked baggage
Priority boarding and check-in
Personalized bag tags
Priority wait-listing
Oneworld Ruby status
Gold status (Oneworld Sapphire) includes all Silver benefits, plus the following perks:
Preferred seating
Guaranteed economy awards
75% bonus Avios
5% discount on redemptions
Lounge access (one guest)
Four guest lounge passes
Priority baggage handling
Extra baggage
Priority phone support
Al Maha Gold Service
Qatar's top-tier Platinum elite status is the equivalent of the valuable Oneworld Emerald status. This tier includes all Gold status benefits, plus the following perks:
100% bonus Avios
Lounge access (two guests)
Five guest lounge passes
Read more: Your complete guide to Oneworld alliance benefits
How to earn Avios with Qatar Airways Privilege Club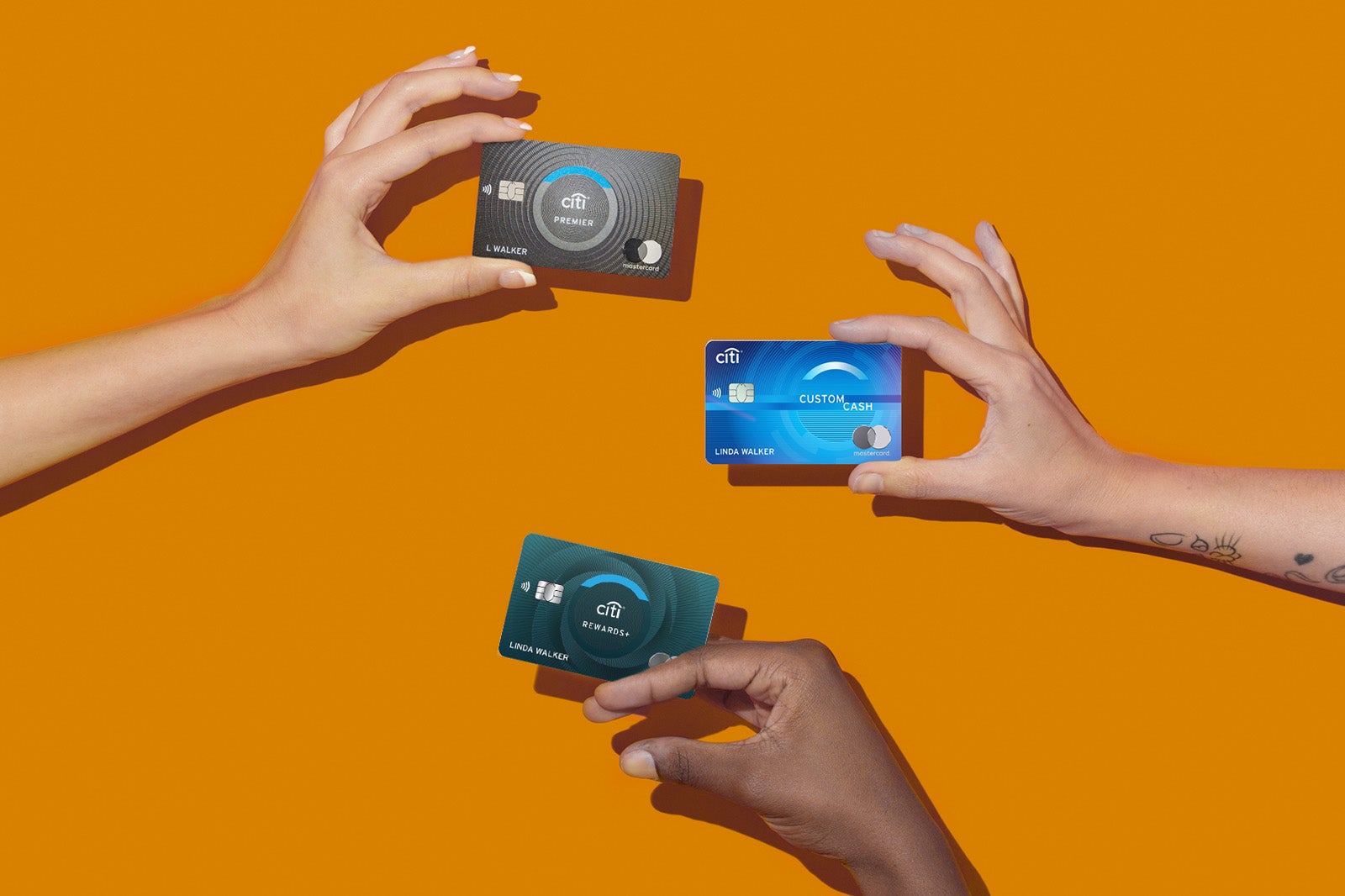 THE POINTS GUY
Citi ThankYou Rewards
The easiest way for U.S. travelers to earn Qatar Avios is by transferring Citi ThankYou Rewards points to Privilege Club. Points transfer to Qatar Avios at a 1:1 ratio, though transfers usually take around two days to process.
You can earn Citi ThankYou Rewards with the Citi Premier® Card (see rates and fees). Note that if you're still holding on to the Citi Prestige® Card, which is no longer open to new applicants, you also have the full transfer benefits.
That said, like Chase Ultimate Rewards, you can combine your Citi ThankYou Rewards points into a single account for select products, allowing you to effectively "convert" your fixed-value earnings from cards like the Citi Rewards+® Card (see rates and fees) and the Citi® Double Cash Card (see rates and fees) into fully transferable ThankYou rewards.
The information for the Citi Prestige has been collected independently by The Points Guy. The card details on this page have not been reviewed or provided by the card issuer.
Transfer from other Avios programs
You can also transfer Avios from British Airways Executive Club, Iberia Plus or Aer Lingus AerClub at a 1:1 rate in any direction.
The following cards all currently offer strong welcome bonuses that you could easily convert to Avios in these three programs (and then convert to Privilege Club):
You can also purchase Avios, which are often on sale.
Transfer from Marriott Bonvoy
Alternatively, you can transfer Marriott Bonvoy points to Qatar Airways Privilege Club at a 3:1 ratio. As an added perk, you'll get a 5,000-mile bonus when you transfer 60,000 points. This means transferring 60,000 points nets you 25,000 Privilege Club Avios, a nice chunk of miles.
Earn Avios by flying Qatar Airways
You can also earn Avios when taking paid Qatar-operated flights around the world. The number of Avios you earn depends on your cabin and ticketed fare class. Qatar Airways Privilege Club still awards Avios based on the distance flown, but bear in mind that most discounted fare classes will earn at a much lower rate than higher-tier fares.
Here's a table that details how you'll accrue Avios on Qatar flights.

QATARAIRWAYS.COM
To see information for a specific itinerary, you can use Qatar's online calculator.
Earn Avios with program partners
KYLE OLSEN/THE POINTS GUY
You can also earn Qatar Avios for flights on any of the following Oneworld airlines:
Alaska Airlines
American Airlines
British Airways
Cathay Pacific
Finnair
Iberia, including Iberia Express and Air Nostrum
Japan Airlines
Malaysia Airlines
Qantas, including QantasLink and Jetconnect
Royal Air Maroc
Royal Jordanian Airlines
S7 Airlines (currently suspended)
SriLankan Airlines
Privilege Club also partners with the following airlines outside of Oneworld:
These flights follow a similar earning scheme to Qatar Airways, but you can use the aforementioned calculator for more details.
Redeeming Qatar Airways Privilege Club Avios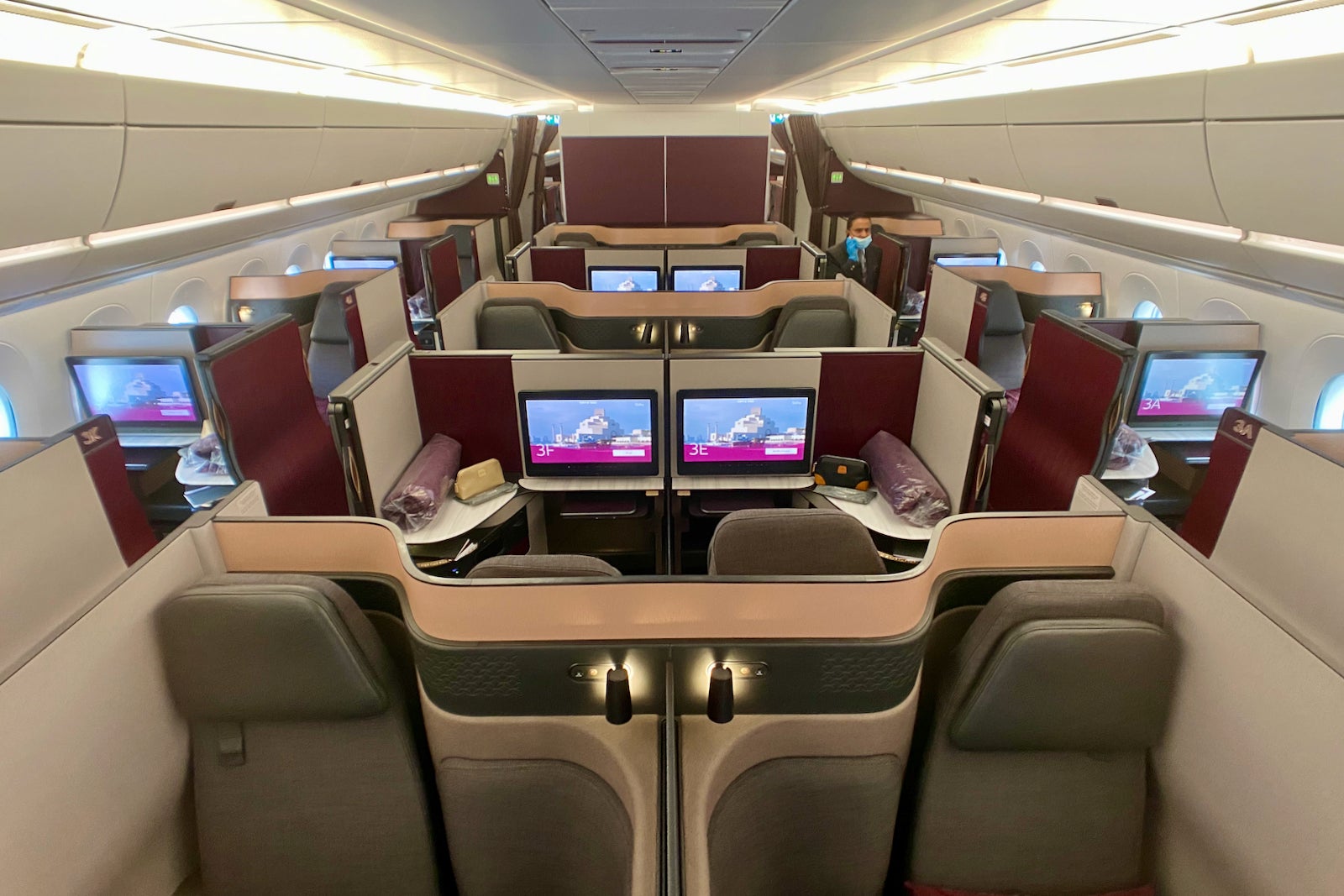 ZACH GRIFF/THE POINTS GUY
Booking Qatar Airways flights with miles
Qatar Airways has what is widely considered one of the world's best business-class products with its award-winning Qsuite product. Even the carrier's economy product is a solid option. Here are the prices for popular one-way itineraries per person on any date (there is no peak or off-peak pricing).
| New York's John F. Kennedy International Airport (JFK) to DOH in business class | 70,000 + $73.35 |
| --- | --- |
| JFK to DOH in economy | 35,000 + $62.35 |
| JFK to Delhi, India's Indira Gandhi International Airport (DEL) in business class | 80,000 + $201.50 |
| JFK to DEL in economy | 40,000 + $131.50 |
| JFK to Bangkok's Suvarnabhumi Airport (BKK) in business class  |  95,000 + $202.90 |
| JFK to BKK in economy | 47,500 + $132.90 |
| Los Angeles International Airport (LAX) to Dubai International Airport (DXB) in economy | 37,500 + $132.90 |
| Edinburgh Airport (EDI) to Tokyo's Narita International Airport (NRT) in business class | 80,000 + $440.42 |
| Paris-Charles de Gaulle Airport (CDG) to Bali, Indonesia's Ngurah Rai International Airport (DPS) in economy | 40,000 + $175.49 |
Availability can be limited, especially in premium cabins, so the further in advance you can book, the more likely you are to find one or more seats on the dates you need.
Upgrading Qatar Airways flights with miles
You can also use your Qatar miles to upgrade paid flights operated by the airline. Like award tickets, you must use the airline's calculator to find the cost of upgrading a specific flight based on your route and fare class.
For example, you can upgrade the cheapest economy class ticket from the East Coast to Doha to a business-class seat for 55,000 miles one-way. This isn't much cheaper than booking an award ticket, so we recommend steering clear of these unless you have booked an extremely cheap cash fare.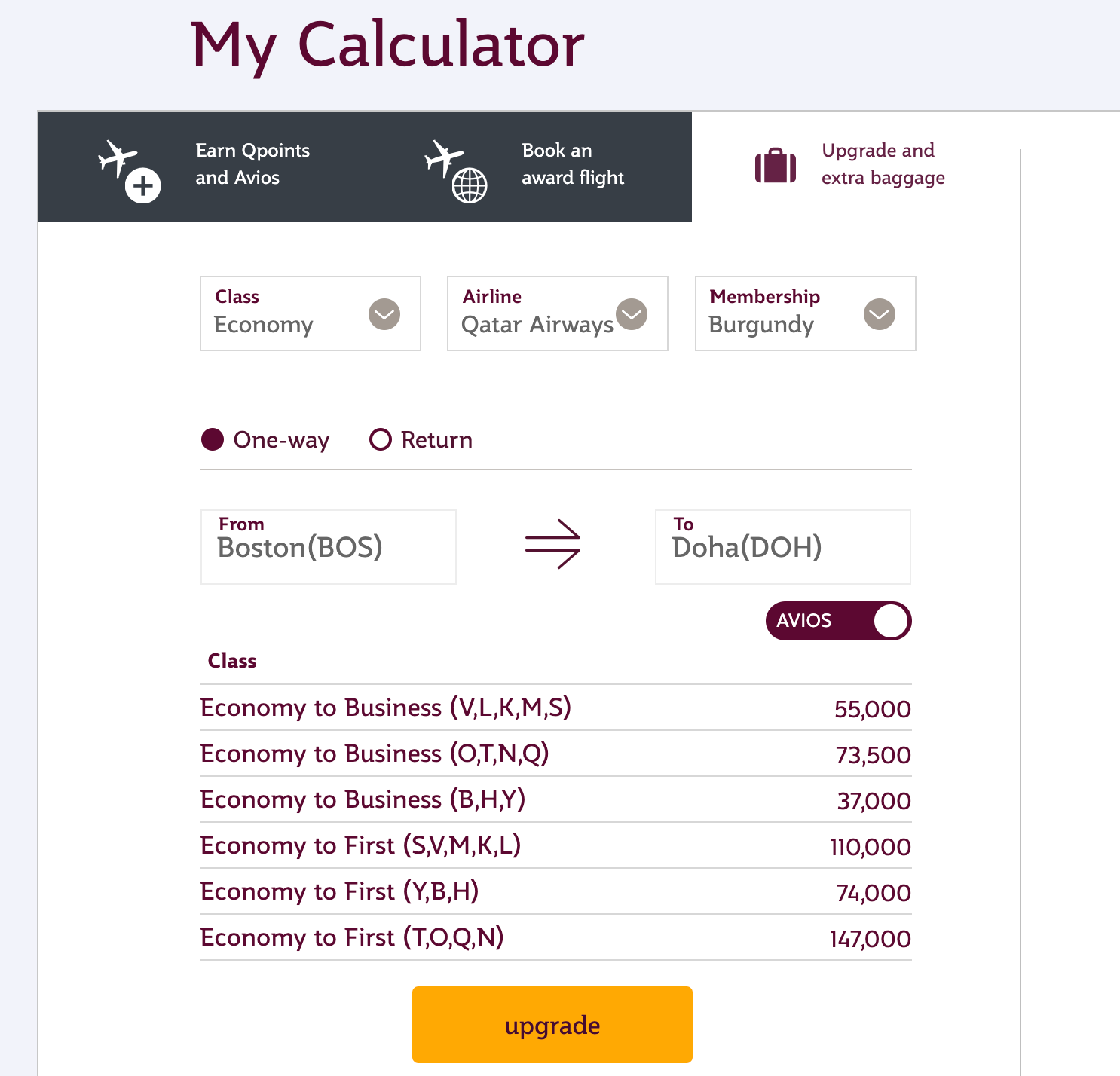 QATARAIRWAYS.COM
Additionally, you need to find available upgrade space in order to upgrade your ticket. You can do this by calling the airline or attempting to upgrade a ticket online.
Booking partner flights with miles
Earlier this year, Qatar lowered the award prices for many partner-operated flights, bringing them in line with other Avios currencies. Here's the award chart for all Privilege Club partner redemptions, including Oneworld and other carriers:
| Distance (miles) | Economy class (Avios) | Premium economy (Avios) | Business class (Avios) | First class (Avios) |
| --- | --- | --- | --- | --- |
| 0-650 | 6,000 | 9,000 | 12,500 | 24,000 |
| 651-1,151 | 9,000 | 12,500 | 16,500 | 33,000 |
| 1,152-2,000 | 11,000 | 16,500 | 22,000 | 44,000 |
| 2,001-3,000 | 13,000 | 25,250 | 38,750 | 51,500 |
| 3,001-4,000 | 20,750 | 41,250 | 62,000 | 82,500 |
| 4,001-5,500 | 25,750 | 51,500 | 77,250 | 103,000 |
| 5,501-6,500 | 31,000 | 62,000 | 92,750 | 123,750 |
| 6,501-7,000 | 36,250 | 72,250 | 108,250 | 144,250 |
| 7,001-plus | 51,500 | 103,000 | 154,500 | 206,000 |
The award chart closely resembles British Airways' partner award chart, meaning both programs have the same sweet spots:
Short-haul redemptions on American Airlines or Alaska Airlines start from just 6,000 Avios each way with no peak or off-peak pricing.
American Airlines regularly flies internationally configured wide-body aircraft on domestic routes, including 777s and 787s. For example, American's flagship 777-300ER operates some flights between JFK and Miami International Airport (MIA), a 1,089-mile journey. You could book a business-class award on this flight for only 16,500 Avios, which is a great deal.
Fly from major West Coast cities to the Hawaiian Islands for just 13,000 Avios on American Airlines or Alaska Airlines.
Unfortunately, ticketing these awards is challenging. Unless you're redeeming your Qatar Avios for an American Airlines or a British Airways flight, you won't be able to book your partner redemption on Qatar's website. To redeem your Qatar Avios on a partner flight, you can call Qatar Airways Privilege Club at 800-988-6128. Know, though, that the call center is only open during working hours on weekdays.
You can also see flight partner schedules by selecting "book award ticket" on Qatar's website. You can then submit a request to book a partner flight, and a Qatar agent will process your reservation if there's award space. We don't recommend this option since award space can rapidly change. Instead, we suggest transferring Avios to British Airways so you have more partner flight options you can book online.
Related: The best ways to redeem British Airways Avios
Other redemption options
You can also use your Qatar Avios for merchandise, duty-free items, hotel stays and more. We generally recommend staying away from these types of redemptions, as they'll almost always give you less value than a free flight, often dropping the value to half a cent per mile (or less).
Bottom line
Qatar Airways has fabulous products on the ground and in the air. If you have never flown long-haul business class, you can't go wrong with the world-famous Qsuites to Doha and beyond.
While the program previously flew under the radar due to some uncompetitive pricing and complex booking options, adopting the already popular Avios currency in 2022 has opened up new ways to easily earn and redeem Avios in the program. The ability to easily transfer Avios between four different airline loyalty programs makes the program much more attractive, especially as Privilege Club now has the same short-haul sweet spots that are so popular when redeeming Avios through the British Airways Executive Club program.
Additional reporting by Andrew Kunesh.