The United Arab Emirates (UAE) covers an area of around 83,600 square km (32,300 square miles) in the Arabian Peninsula. 
As observed on the physical map of the country above, most of the United Arab Emirates is a desert wasteland, with large, rolling sand dunes, as the outer reaches of the Rub' Al Khali Desert stretch into the country.
The coastal areas fronting the Persian Gulf are flat, while the Hajar Mountains dominate the landscape in the northeast. Jabal Yibir, the country's highest point, is located there, which rises to 5,666 ft. (1,727 m). A yellow triangle marks its position on the map.
The United Arab Emirates has no significant rivers or lakes of note.
Numerous small islands and inlets are situated offshore in the Persian Gulf.
Emirates Map of The United Arab Emirates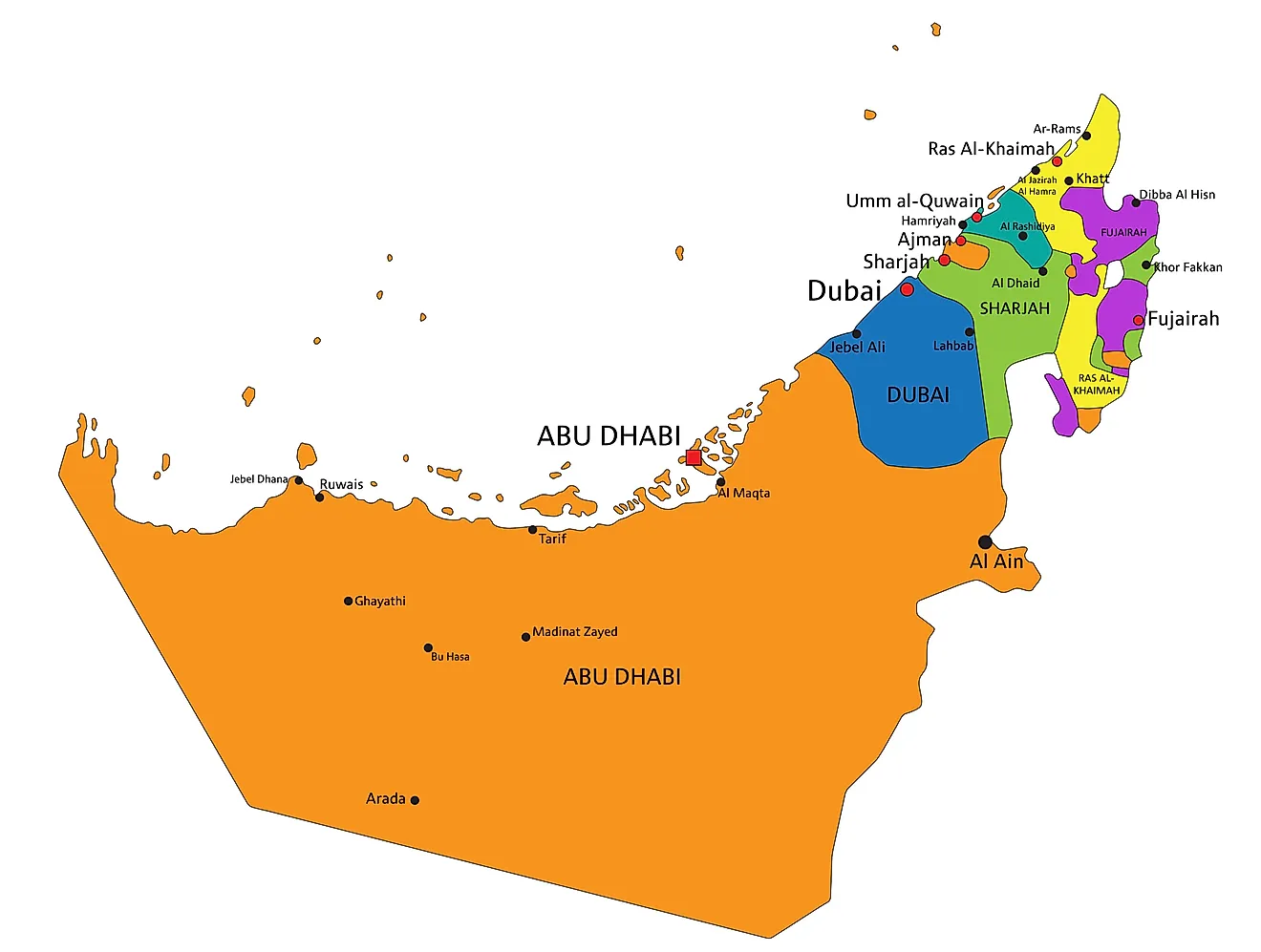 United Arab Emirates (UAE) is divided into 7 Emirates (imarat, sing. imarah). In alphabetical order, these Emirates are: AbuZaby (Abu Dhabi), 'Ajman, Dubayy (Dubai), Al Fujayrah, Ra'sal Khaymah, Ash Shariqah (Sharjah), and Umm al Qaywayn. 
Located along the southern coasts of the Persian Gulf, at the south western part of the country, is the city of Abu Dhabi – the national capital of UAE. With an area of 67,340 sq. km, The Emirate of Abu Dhabi is the largest and the second most populous emirate of UAE. Abu Dhabi is also the country's leading cultural, political and economic center. With a population of over a million inhabitants, Dubai is the largest and the most populous city of UAE. Dubai is a global city and a major international aviation hub. Dubai is also one of the biggest cosmopolitan cities of the world and an important business hub of the Middle East. 
Where is The United Arab Emirates?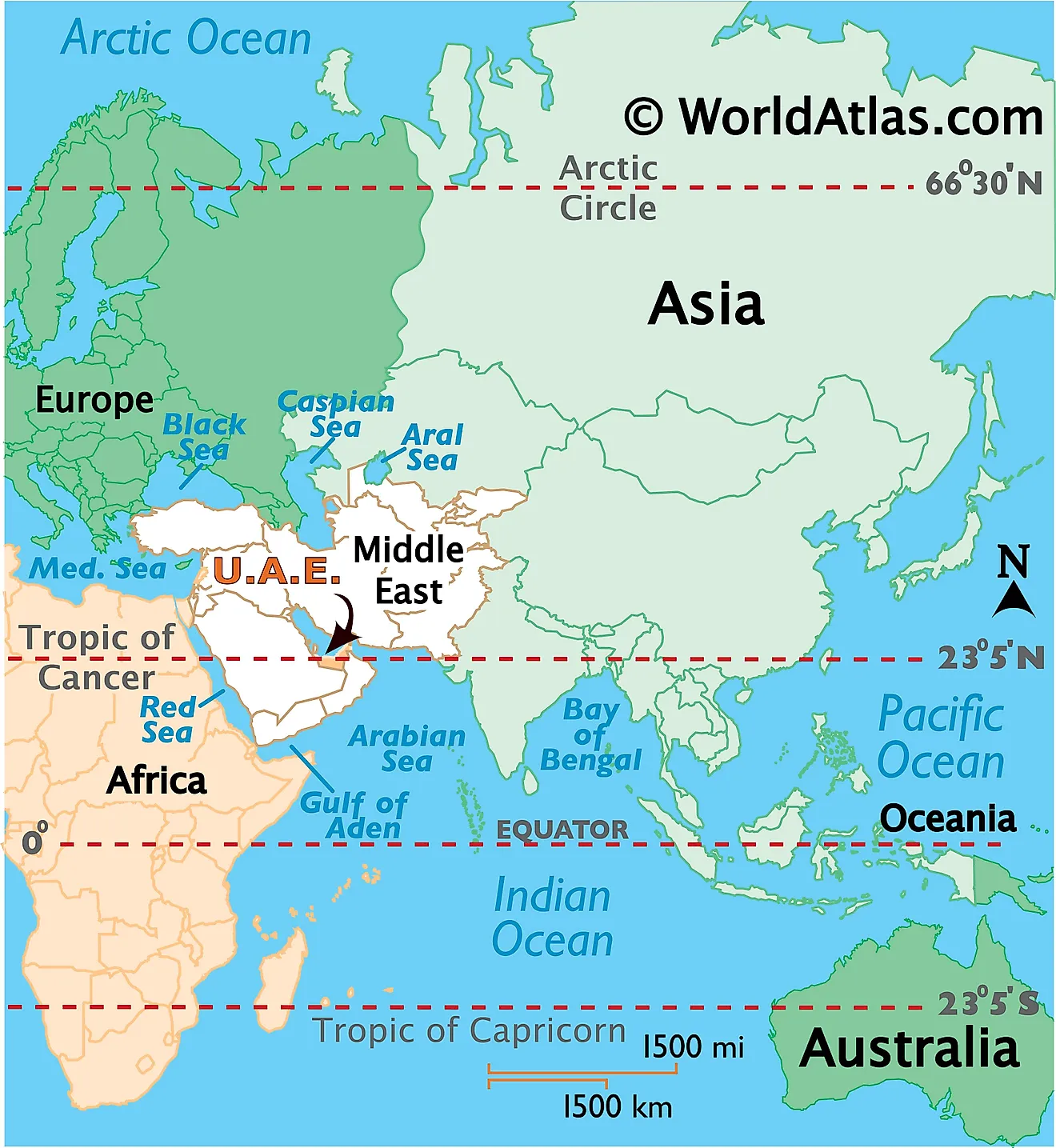 United Arab Emirates is a Middle East country that is located on the north east edge of the Arabian Peninsula, bordering the Gulf of Oman and the Persian Gulf. It is situated in the Northern and Eastern Hemispheres of the Earth. It is bordered by Saudi Arabia in the south and west; and by Oman in the east. The country also shares its maritime borders with Iran in the north and Qatar in the west. 
United Arab Emirates Bordering Countries: Saudi Arabia, Oman.
Regional Maps: Map of Asia
Outline Map of The United Arab Emirates
Key Facts
Legal Name
United Arab Emirates
Flag
Capital City
Abu Dhabi
24 28 N, 54 22 E
Total Area
83,600.00 km2
Land Area
83,600.00 km2
Water Area
N/A
Population
9,770,529
Major Cities

Dubayy (Dubai) (2,878,344)
Ash-Shariqah (Sharjah) (1,684,649)
Abu Zaby (Abu Dhabi) (1,482,816)
Al-Ain (610,887)
Ajman (392,066)

Currency
Emirati dirhams (AED)
GDP
$421.14 Billion
GDP Per Capita
$43,103.32
This page was last updated on December 7, 2022