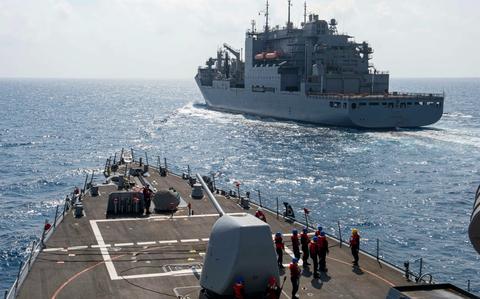 Guided-missile destroyer USS Paul Hamilton approaches dry cargo and ammunition ship USNS Alan Shepard during a replenishment-at-sea, April 16, 2023, in the Arabian Sea. (Elliot Schaudt/U.S. Navy)
A Navy investigation is ongoing to determine how a 19,000-ton cargo ship ran aground this weekend in Bahrain, the service said in a statement Sunday.
USNS Alan Shepard became stuck Saturday afternoon while moving from a shipyard in Al Hidd to a pier at Khalifa Bin Salman Port, 5th Fleet spokesman Cmdr. Tim Hawkins said Sunday.
About 85 crew members were aboard at the time, but no one was injured, Hawkins said.
<![CDATA[ // Convert screen width to em units var width = $(window).width() / parseFloat($("html").css("font-size")); if(width
The Alan Shepard transports dry cargo and ammunition and has accommodations for more than 120 people, according to the Naval Vessel Register. The nearly 700-foot-long ship was launched in 2006.
Tugboats helped free the vessel at high tide Sunday morning, and it is now moored in Bahrain, Hawkins said, adding that the ship's crew stayed on board overnight.
No damage to the ship was noted at the time of the grounding, but the Navy is assessing its condition, Hawkins said.
Ship groundings can cause significant damage to hulls, propellers and surrounding infrastructure.
In 2017, the missile cruiser USS Antietam ran aground in Japan and leaked an estimated 1,100 gallons of hydraulic oil into Tokyo Bay,Stars and Stripes reported at the time.
And in 2014, the guided-missile frigate USS Taylor ran aground in the Black Sea, causing $4.8 million in damage and leading to the dismissalof commanding officer Cmdr. Dennis Volpe, a Stars and Stripes report said at the time.
Source